When it was published by Doubleday in 2007, Mary Novik's Conceit was called "a magnificent novel of 17th-century London" by The Globe and Mail. It was chosen as a Book of the Year by both Quill & Quire and The Globe and Mail, and AbeBooks called it one of the Top Ten Hottest New Canadian Books for 2008. It was nominated for the Giller, won the Ethel Wilson Fiction Prize, and named one of Canada Reads' Top 40 Essential Canadian Novels of the Decade. Thank you everyone for giving my debut novel such a warm welcome!
In this area of my website, you can sample a chapter of Conceit and read a synopsis, a reader's guide, a Q & A, and highlights from reviews. For resources and critiques, and a biography, see the Mary page. See Backstory for Conceit for background posts, images, and intriguing facts about the 17th century.
To start things off, here's The Globe and Mail's thumbnail of Conceit from its list of Best Books of 2007:
"Conceit is a plenteous, fully engaging re-creation of 17th-century England, observed through the eyes of poet John Donne's daughter, Pegge. Mary Novik's imagination leaps from ecstatic to hellish, probing the carnal, the mortal and the mystical in fascinating counterpoint. The story opens with the great London fire of 1666, expands through decades, then revisits the charred ruins for an apotheosis of the macabre."
Synopsis of Mary Novik's Conceit
Set against the lively backdrop of seventeenth-century England, from Elizabeth I's court to the teeming, bawdy streets of Restoration London, this audacious debut novel vividly portrays the lives of men and women driven by passion.
Pegge Donne is still a rebellious girl, barely in her teens and already too clever for a world that values learning only in men, when her father, the famous poet John Donne, begins arranging marriages for his five daughters—including Pegge.
Pegge, however, is desperate to experience the all-consuming passion that led to her parents' clandestine elopement. She sets out to win the love of Donne's friend, Izaak Walton, and tries to draw the secrets of desire out of her father during his final days.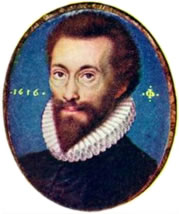 Intertwined with Pegge's singular voice are those of John Donne and Ann More, each telling their own story of a love that swept all before it. Exquisitely written, Conceit is seductive, elegant, and richly satisfying