Every journey is a pilgrimage and we were on a journey to Iberia. As a writer, I was on a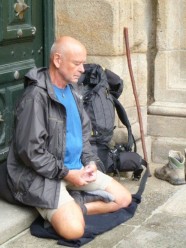 quest for ideas for a new novel. We were travelling by car and bus and were adventuring in comfort: engaging with history, eating different foods, and tasting local wines. Much was unusual and mysterious. Not being Catholic, I expected to be repulsed by Fatima in Portugal. We watched a woman walk painfully on her knees into the sacred arena that housed Santa Maria, adorned by the bullet that had missed Pope Paul II. She was led by a small boy, a pilgrimage being seared into his memory. Strangely moved, I lit two candles for my own family and tossed them–from a safe distance!–into the sizzling inferno.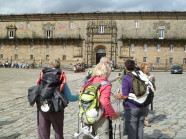 In Galicia in Spain, we saw pilgrims walking in twos or threes along the Atlantic route of the camino de Santiago. People have walked the camino for a thousand years, covering up to 800 km at an average of 25 km a day. Some of the pilgrims looked like medieval Franciscans with scallop shells, make-shift wooden staffs, khaki rucksacks, and bedrolls. Others were equipped with trekking packs, running shoes, telescoping poles, and iPhones with Google maps. One woman had a swollen foot and a black eye from a fall, but her spirits were high.
In Santiago de Compostela, pilgrims lined up for the final stamp in their passports. In the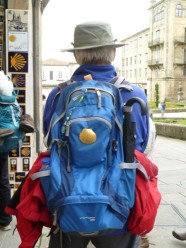 cathedral, they lined up again to embrace the statue of Saint James and to attend the pilgrims' mass. In the excellent museum, the clerk told us that the legendary botafumeiro would be making a rare appearance at mass that evening. He would be one of the eight tiraboleiros swinging the world's biggest censer, which weighed 120 kg when loaded with charcoal and incense.
As we sipped albarino and munched olives in the adjacent Parador, time slipped away and we were lucky to find standing room at the back of the cathedral. Late arrivals blocked the view of others, and one old man hit a pilgrim with his cane, demanding a clear view of the altar. The priest invited everyone to embrace a fellow pilgrim. People responded with tears in their eyes, leaving their cameras in their pockets. Even with my feeble grasp of Spanish, I understood that we were all welcome, whether we'd walked one km or the whole 800.
At the end of the mass, the eight muscular tiraboleiros grasped the eight tails of the rope. The botafumeiro was hauled towards the roof and released at a choreographed moment. It plummeted and swung dangerously into the heart of the crowd. Amazingly, miraculously, stirred by a common impulse, hundreds of iPhones popped up in unison to photograph the botafumeiro belching out clouds of choking incense.
It might have been comic, but it wasn't. It was mysterious and eerily fitting. Medieval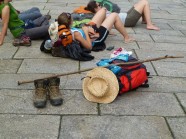 pilgrims would have recorded the phenomenon in their memories or on parchment. Modern pilgrims used the instruments that–like the maps and sundials of early pilgrims–had carried them safely down the camino to the end of their own pilgrimage, with its very personal meaning.