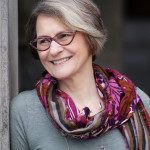 Welcome to my website, where you can find out more about my novels Muse and Conceit, learn more about the inspiration and backstory of my work, read my biography, and connect with me.
Latest book Muse
Muse
is the story of the mysterious woman who was the inspiration behind Petrarch's sublime love poetry. Solange Le Blanc begins life in the tempestuous streets of 14
th
century Avignon, a city of men dominated by the Pope and his palace. When her mother, a harlot, dies in childbirth, Solange is raised by Benedictines who believe she has the gift of clairvoyance. Trained as a scribe, but troubled by disturbing visions, she escapes to Avignon, where she becomes entangled in a love triangle with the poet Petrarch, becoming not only his muse, but also his lover. Later, when Solange's gift for prophecy seduces Pope Clement VI's ear, she becomes his confidante and mistress, winning a powerful rôle in the most celebrated court in Europe.
read more